Epimol-B Plus Emollient Cream
Besides Cetomacrogol, Niacimainde and Glycerin, Epimol-B Plus has been added 10% Urea to target very dry skin conditions especially in the elderly population. Urea has the benefits of increasing skin hydration by drawing moisture from both the air and the inner deeper layers of the skin to the outermost layer improving its hydration. In addition, Urea has exfoliating properties that prevent the build-up of dead skin on the skin's surface in conditions where the skin is flaking or scaling.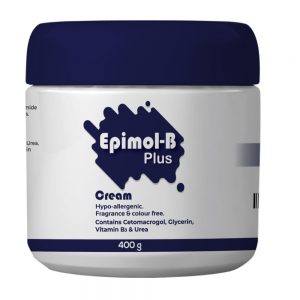 Niacinamide in Epimol-B Plus soothes irritated skin, has anti-inflammatory effects and prevents trans-epidermal water loss.
The combination of Glycerine, Cetomacrogol, Niacinamide and Urea makes Epimol-B Plus a powerful moisturiser for managing all conditions associated with Very dry, rough or scaling Skin.
Under medical supervision, Epimol- B plus can be combined with other prescription medications to treat conditions Ichthyosis, psoriasis, Atopic dermatitis and can also be used to soften the soles of the feet and moisturize dry elbows.
Epimol-B plus is Paraben Free, Fragrance Free and SLS Free.