Pure Niacinamide 10 Serum
La Roche Posay's first pure 10 niacinamide serum is a multi-tasking dermatological serum developed to suit all skin types including sensitive skin. This serum with niacinamide, and hyaluronic acid helps to even out skin tone, hydrate and brighten, whilst improving the appearance of dark spots.
The Pure Niacinamide10 Serum for dark spots is specifically formulated for sensitive skin types. The powerful dermatologically tested formula contains 10% niacinamide (hydrate & smooth), and 5% HEPES (gently exfoliates). This serum for a more even skin tone with niacinamide also helps with skin texture, making skin look brighter and smoother while the hyaluronic acid helps to lock-in moisture leaving skin looking plump and healthy.
Our first 10% niacinamide concentrate. Multi-tasking dermatological serum. Evens skin tone, repairs and brightens, whilst improving the appearance and prevention of dark spots. Specifically developed for sensitive skin.
SPECIFICALLY FORMULATED FOR:
This serum is specifically formulated for dark spots & sensitive skin.
ACTIVE INGREDIENTS:
A powerful dermatologically tested formula that contains 10% niacinamide, and 5% HEPES (gently exfoliates). The serum with hyaluronic acid helps to retain the skin's natural moisture.
The La Roche-Posay Pure Niacinamide 10 Serum with hyaluronic acid is formulated for all skin types, specifically sensitive skin, to hydrate the skin and reduce the appearance of dark spots. This niacinamide serum also helps even out dull skin tone by brightening the overall appearance of the face and supporting the skin against signs of sun damage.
DERMATOLOGICALLY TESTED:
Pure Niacinamide 10 Serum efficacy has been demonstrated via a clinical study carried out on 41 subjects.
Tested under dermatological control on sensitive skin.
Tested under ophthalmological control on sensitive eyes and eye area.
Tested on all skin types and tones.
Allergy tested.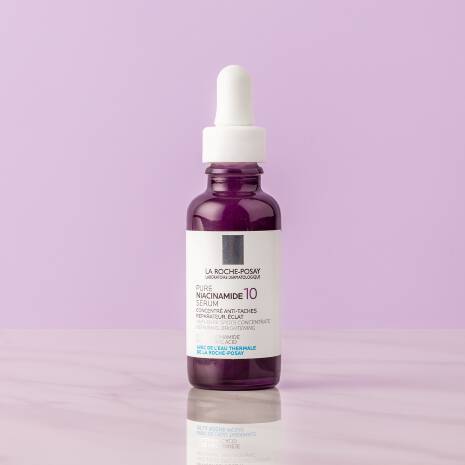 MINIMALIST HYPO-ALLERGENIC FORMULA:
The minimalist formula is designed for sensitive skin and its needs. Tested and re-tested for its efficacy and mildness on sensitive skin.
How to use Pure Niacinamide 10 Serum
For daily usage.
Apply morning and/or evening to face and neck before moisturising. If needed, suitable for use on hands.
A suitable serum for oily, acne prone & rosacea prone skin, and most skin-types.
Use in conjunction with a daily UV protection product.
Avoid direct contact with eyes.