WHAT IT IS
ANTHELIOS INVISIBLE SPRAY SPF50+ / UVA-PF 37 provides a very high broad-spectrum protection preventing damage caused by UVA, UVB Infrared-A and pollution.
Ultra-resistant to water, sweat and sand. Anti-eye stinging. Light-weight, non-sticky texture.HOW TO APPLY:
Apply the sunscreen product just before exposure. Re-apply frequently and generously to maintain protection, especially after perspiring or towelling. External use.
TEXTURE
Ultra fluid. Non-greasy. Non-sticky. No white marks.
KEY BENEFITS
Broad-spectrum protection shields skin from UVA and UVB rays and helps to prevent damage caused by Infrared-A and pollution.
THE SCIENCE BEHIND
The formula forms strong network of protection providing homogenous, non-migrating, non-greasy and very resistant protection.
Tested under dermatological control. Allergy tested.
La Roche-Posay Anthelios, recommended by 60 000 dermatologists worldwide*
*Source: Survey on the dermocosmetic market carried out by IQVIA and other partners (Ipsos, TNS) between September 2017 and August 2018 among dermatologists in 61 countries.
KEY BENEFITS OF La Roche Posay Anthelios Invisible Spray SPF 50+ 200ML
•    Non-greasy and lightweight sunscreen formula comfortable for daily wear
•    Sunscreen spray for easy application over face and full body areas
•    Very high UVA/UVB protection
•    Fragrance-free formula
•    Formulated for sensitive skin
•    Invisible finish and feel on skin
•    Easy to seamlessly apply over makeup
•    Non-comedogenic meaning it will not clog pores
•    Packaging is sleek for ease of transportation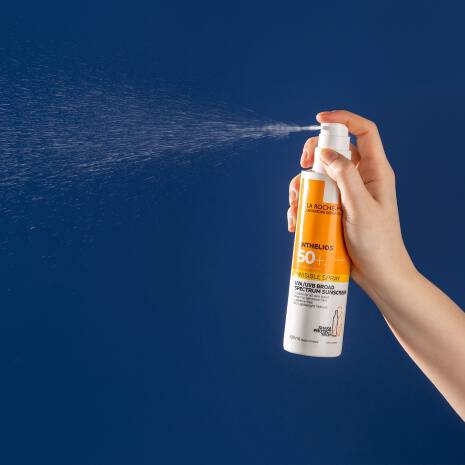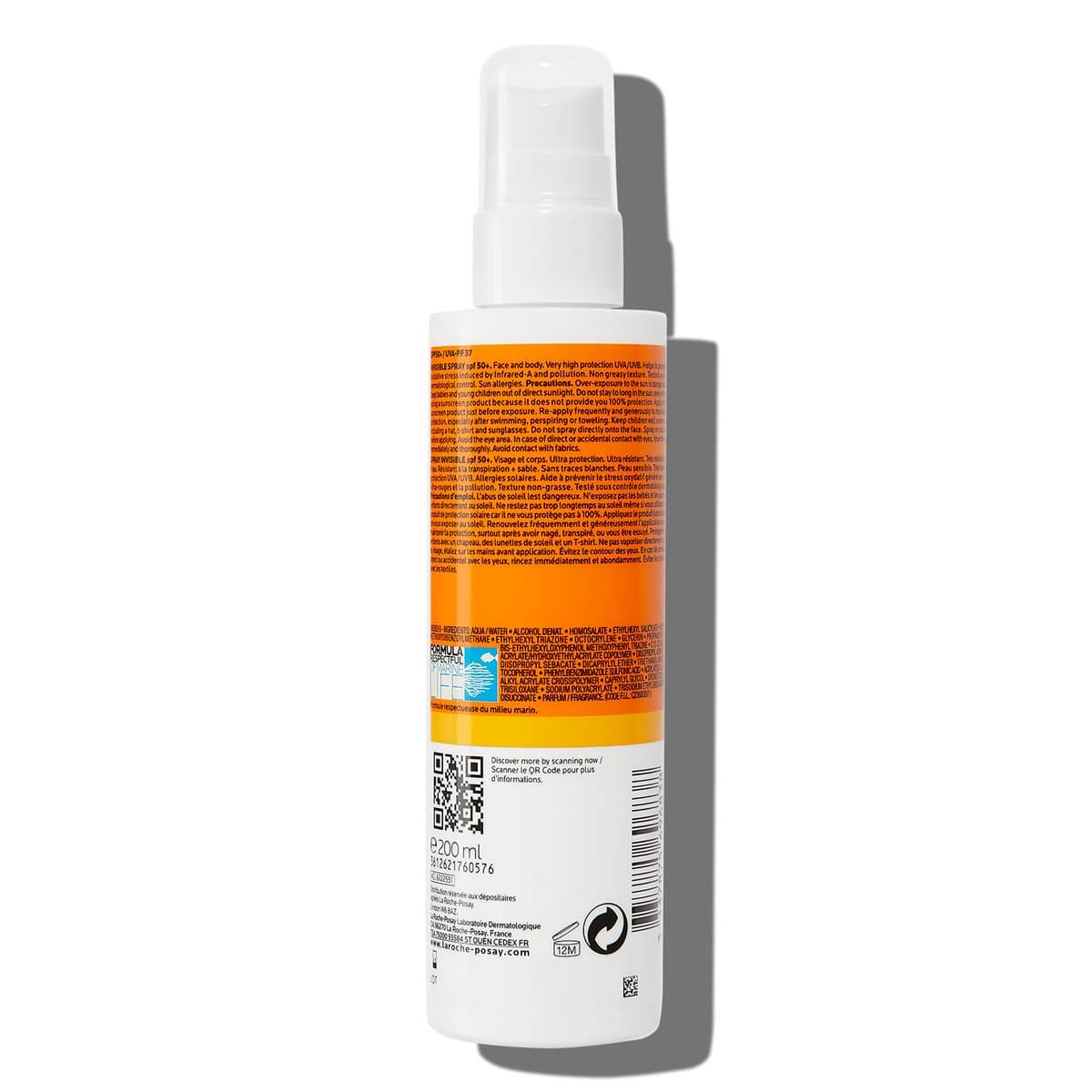 TEXTURE
The La Roche-Posay Invisible SPF 50+ Spray Sunscreen has a new and improved formulation using a balanced mix of hydrating ingredients with intelligent polymer technology, making the sunscreen lightweight in texture, as well as on the skin, offering an invisible finish and feel.
DESCRIPTION
La Roche-Posay's Anthelios Invisible Spray SPF 50+ is a lightweight spray Sunscreen for face  and body. The Anthelios Invisible Spray formula has been formulated to create a light, invisible, and refined sunscreen texture for comfortable wear. This SPF 50+ face and body sunscreen spray has been developed and dermatologically tested for sensitive skin, while also suitable for all skin types.
This fragrance-free, lightweight sunscreen spray provides very high, broad-spectrum sun protection against UVB and UVA radiation with a SPF of 50+ without leaving the typical white residue or white marks associated with sunscreens.
The Anthelios Invisible Spray features a minimalistic formula that is designed for sensitive skin. Tested for its efficacy and mildness on sensitive skin, the Anthelios Invisible Spray Sunscreen is fragrance-free. The new and improved formula is also free from octocrylene reducing intolerances for some and free from cinnamates making it respectful of marine life.
HOW TO USE
•    Shake the spray sunscreen bottle before use.
•    Hold the bottle 10-15cm away from the body and apply liberally and evenly until the product looks and feels wet on the skin.
•    Do not spray directly on the face. Spray onto hands and then apply to the face.
•    Use this SPF spray on your face as the last step in your skincare routine.
•    Do not apply this product in windy conditions.
•    Use in a well ventilated area and avoid inhalation.
•    Apply 20 minutes before sun exposure. Sunscreen is only one part of sun protection so wear protective clothing and seek shade. Avoid prolonged sun exposure.
•    Reapply every 2 hours and after swimming, towelling and perspiring in accordance with directions.Keep children under 3 out of the sun and ensure they are wearing a hat, t-shirt and sunglasses.
ALWAYS READ THE LABEL. FOLLOW THE DIRECTIONS FOR USE.
AUST L 357051