CITAL ORAL SYRUP
Cital Oral Syrup Sugar-Free is a medicine used in the treatment of gout and kidney stones. It stops the production of uric acid in the body reduces the episodes of gout attack and prevents kidney stones.
Cital Oral Liquid Sugar-Free can be taken with or without food. This will prevent you from getting an upset stomach. Take it regularly, and do not stop taking the medicine even if you get better until your doctor tells you it is alright to stop.
The most common side effect of this medicine is stomach pain. It may also cause diarrhea, nausea, vomiting, a frequent urge to urinate, and tiredness. If any of these side effects do not resolve with time or get worse, you should let your doctor know. Your doctor may help with ways to reduce or prevent these symptoms by reducing the dose or prescribing an alternative medicine.
To make sure the medicine is safe for you, before taking this medicine, let your doctor know all the other medicines you are taking. Also, tell your doctor if you have any problems with your heart, kidneys, or liver. If you are pregnant or breastfeeding, consult your doctor first before taking this medicine.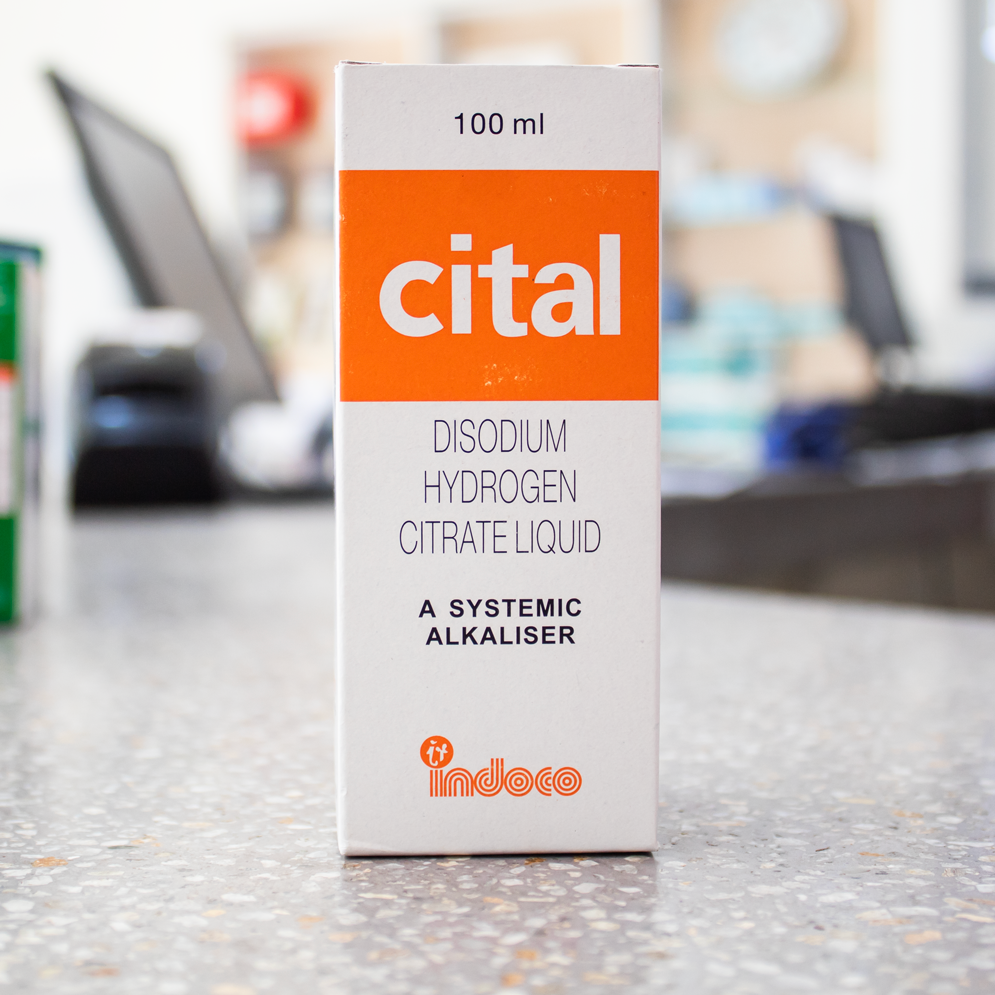 ---
USES OF CITAL ORAL SYRUP
BENEFITS OF CITAL ORAL SYRUP
In Treatment of Gout
Cital Oral Liquid Sugar-Free is used to prevent and treat gout. Gout is caused by too much uric acid in your body. When the level becomes too high, crystals may form in and around certain joints and your kidneys. This can cause sudden and severe pain, redness, warmth, and swelling. This medicine works by preventing crystals from forming and reducing the levels of uric acid in your blood. This makes it less likely that you will suffer the symptoms and makes them milder if you do. It is usually for long-term treatment and should be taken regularly until the dose is completed.
Show More
---
SIDE EFFECTS OF CITAL ORAL SYRUP
Most side effects do not require any medical attention and disappear as your body adjusts to the medicine. Consult your doctor if they persist or if you're worried about them
Common side effects of Cital
Stomach pain
Tiredness
Diarrhea
Nausea
Vomiting
Frequent urge to urinate
---
HOW TO USE CITAL ORAL SYRUP
Take this medicine in the dose and duration advised by your doctor. Check the label for directions before use. Measure it with measuring cup and take it by mouth. Shake well before use. Cital Oral Liquid Sugar-Free may be taken with or without food, but it is better to take it at a fixed time.
---
HOW CITAL ORAL SYRUP WORKS
Cital Oral Syrup is a urine alkalizer. It works by increasing the pH of urine which makes it less acidic. This helps the kidneys get rid of excess uric acid, thereby preventing gout and certain types of kidney stones.