Natures Aid Cranberry 5000mg
Natures Aid Cranberry can be used for UTI treatment or UTI prevention because the juice acidifies the urine, which in turn prevents bacterial growth. Starch Free.
Cranberries grow on low creeping shrubs and are initially light green berries, turning red when ripe. Fresh Cranberries are particularly hard and bitter, to improve the taste they are generally processed with added sugars when used in cranberry sauces and juices.  Cranberry juice can contain as much as one teaspoon of sugar per fluid ounce!
Cranberry supplements were developed as a convenient way of taking cranberry without all the added sugars or unpleasant taste. At Natures Aid, our Cranberry tablets contain 200mg of concentrated Cranberry extract, the equivalent to 5000mg Cranberry, and contain no added sugar and are suitable for a vegan diet.
Code: Cranberry 5000mg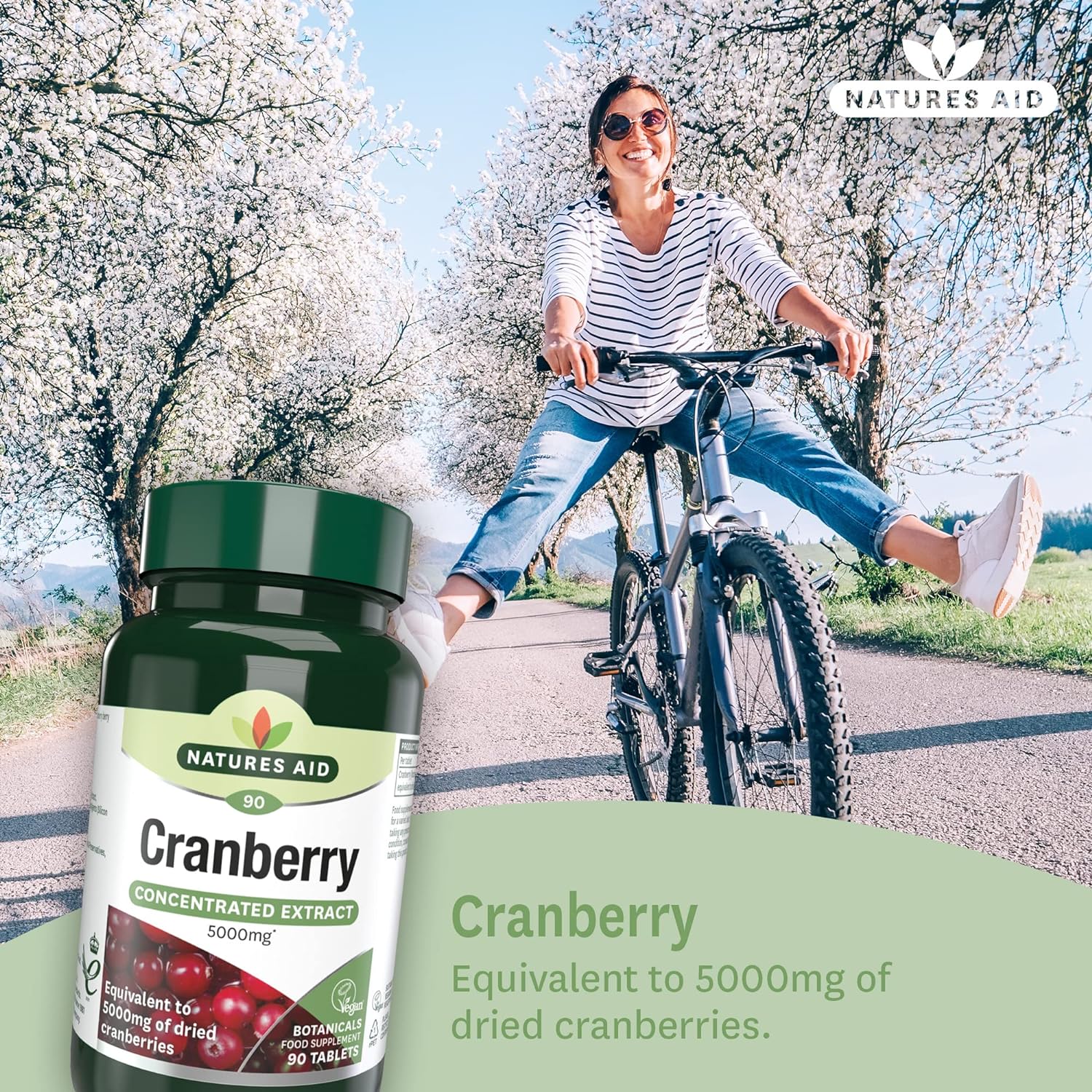 Urinary Tract Infections (UTI)
Women have been using Cranberry to treat and prevent UTI's for nearly ninety years in the belief that the juice acidified the urine, which in turn prevented bacterial growth. We now know however, that it is not acidification that leads to the beneficial effect but actually due to the ability of cranberry to prevent micro-organisms from adhering to the cells of the urinary tract.
Detoxification
Cranberry has been traditionally used to prevent kidney stones and to remove toxins from the blood.
Benefits:
Prevent urinary tract infections
Prevent kidney stones and remove toxins from the blood
Features:
Cranberry tablets contain 200mg of concentrated Cranberry extract, the equivalent to 5000mg Cranberry, and contain no added sugar
Suitable for Vegans & Vegetarian
NO artificial flavours & colours
Free from: 
GMO
Dairy / Lactose
Gluten / Wheat
Yeast
Starch / Soya / Nuts
Sugar / Salt
Suitability:
Anyone to treat and prevent Urinary Tract Infections