La Roche-Posay Effaclar Foaming Gel Cleanser
Effaclar Foaming Gel Cleanser 200ml is a foaming cleanser specially formulated for sensitive, oily, acne-prone skin. This Effaclar foaming face wash is gentle and effective acne face wash eliminates impurities, excess sebum and lifts away dirt.
The Effaclar Foaming Gel Cleanser cleanser respects the skin's PH balance. The gentle formula has a pH 5.5 – the average PH value of the skin's surface, so there is no disruption to the skin's natural balance.
The two active ingredients in Effaclar Foaming Gel Cleanser cleanser are ideal for oily, acne-prone skin and work together to reduce sebum, oil, visible redness, and irritation.
Thermal Spring Water– a pure, naturally occurring water rich in mineral trace elements, sourced from the La Roche-Posay region in the Vienne countryside in France. This soothing, anti-inflammatory, selenium rich water relieves irritation and speeds skin repair. Additionally, the high silicates in the thermal water softens, soothes and protects skin.
Zinc PCA is a trace element with anti-inflammatory, anti-bacterial and antifungal properties which helps to fight the bacteria that cause acne. Zinc PCA also reduces sebum production which reduces the cause of breakouts, pimples and blackheads without impairing the skin barrier.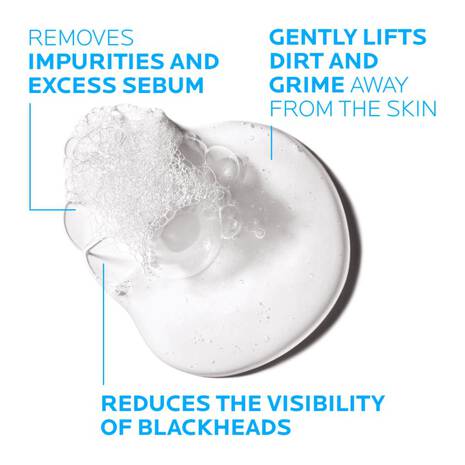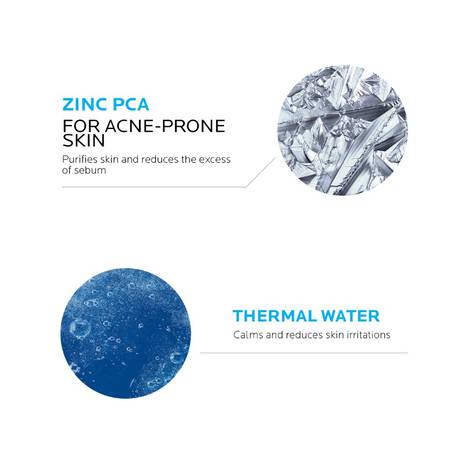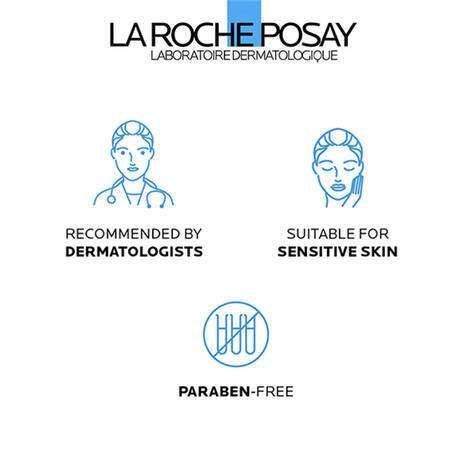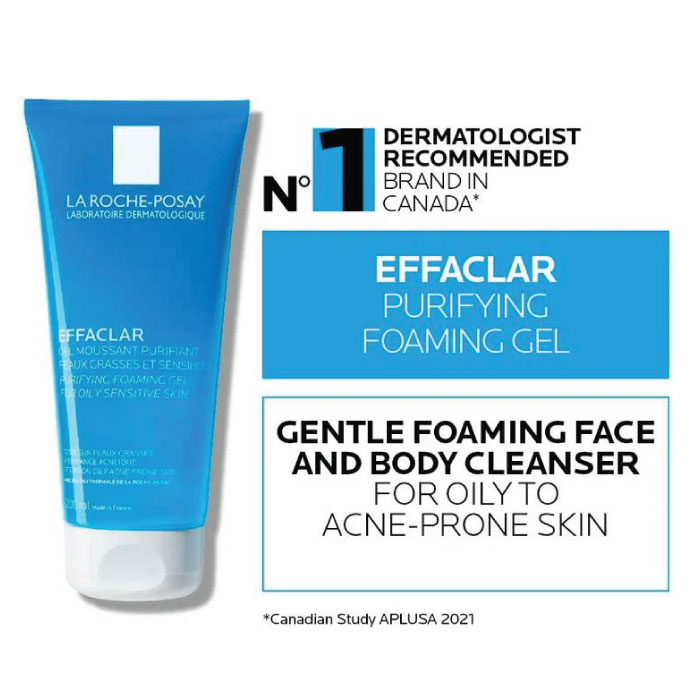 How to use La Roche-Posay Effaclar Foaming Gel Cleanser
Wet face first with lukewarm water
Apply a small amount of the gel
Massage gently into the skin to form a lather
Rinse thoroughly with water
Use morning and evening as a daily cleanser
Can also be used 1-3 times a week as a purifying pore cleanser
The 400ml pump bottle is perfect for use in the shower on the face and body.
Follow with the next step in the Effaclar 3 Step Skin Care System – The Serozinc Face Toning Mist which reduces shine and soothes redness and irritation.
Use Effaclar Duo (+) Anti-Acne Moisturiser on cleansed and toned skin to help target pimples and reduce recurrence.
Specifically adapted and well-tolerated cleansing for acne-prone skin.
Physiological pH – Alcohol-free*.Non-comedogenic.
*without ethanol
Tested on acne-prone skin. Suitable for sensitive skin.
Key Benefits of La Roche-Posay Effaclar Foaming Gel Cleanser
Effaclar Foaming Gel Cleanser cleanser gently removes impurities and excess sebum, controlling shine, and reduces the visibility of blackheads.
Results Show*:
25% reduction in blackheads
16% reduction in sebum